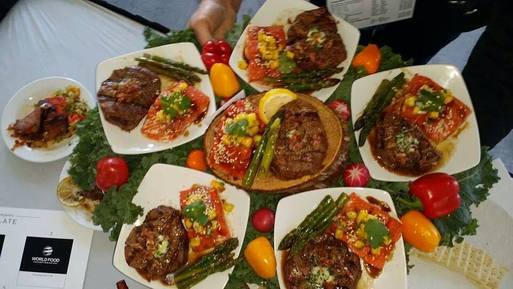 World Food Championship Surf and Turf

Cedar Plank Teriyaki Glazed Salmon with Mango Pineapple Salsa

Pecan Smoked Beef Filet

with Garlic Chive Compound Butter topped with Applewood Smoked Bacon


Cedar Plank Teriyaki Glazed Salmon


Ingredients
1 cedar plank (6 by 14 inches)
4 - 6 to 8 ounce salmon filets
2 ounces of bourbon
Salt and freshly ground black pepper
Toasted sesame seeds
Teriyaki Glaze

Soak cedar plank in salted water for 2 hours, then drain. Remove skin from salmon fillets. Remove any remaining bones. Rinse the salmon under cold running water and pat dry with paper towels. Brush the filets with bourbon and generously season the salmon with salt and pepper on both sides.

Set up the grill for direct grilling on medium-high. When ready to cook, place the plank on the hot grate and leave it until there is a smell of smoke, about 3 to 4 minutes. Turn the plank over and place the fish (on what was skin-side down) on top. Cover the grill and cook until the fish is cooked through, reaching an internal temperature of 125-130 degrees F. Check the plank occasionally. If the edges start to catch fire, mist with water, or move the plank to a cooler part of the grill. Transfer the salmon and plank to a platter, drizzle with the teriyaki glaze, top it with the mango pineapple salsa, sprinkle with sesame seeds,and serve right off the plank.

Mango Pineapple Salsa

Ingredients
4 ripe mangos
1/2 of a fresh pineapple
small red onion
2 or 3 jalapenos
juice of one lime
3 tablespoons of finely chopped cilantro
2 tablespoons of seasoned rice wine vinegar
3/4 teaspoon of salt
Peel and dice in small cubes the mangos, pineapple, and red onion. Deseed and finely chop the jalapenos. Mix all of the ingredients in a bowl and refrigerate for at least 2 hours.


Teriyaki Glaze

Ingredients

1/2 cup soy sauce
1/4 cup water
2 tablespoons sweet rice wine
3 tablespoon brown sugar
1/4 cup sugar
2 teaspoons minced garlic
1 1/2 teaspoons minced ginger
1/2 tablespoon cornstarch
1 tablespoon water
Combine ingredients in a saucepan on medium heat until the sugar is dissolved. Mix 1/2 tablespoon cornstarch with 1 tablespoon water. Heat sauce on medium high heat and add cornstarch water mixture. Simmer until thickened.




Pecan Smoked Beef Filet

Ingredients

4 - 6 to 8 ounce filets

1/2 cup Sweet Smoke Q Beef Juice concentrate

1 cup of water

Salt and freshly ground black pepper

8 slices of Applewood smoked bacon, cooked and diced


Garlic Chive Butter

Ingredients

1 stick of unsalted butter softened

2 cloves of garlic

2 teaspoons of fresh chives

1/2 teaspoon of salt

1/2 teaspoon of fresh ground pepper

Add all of ingredents, mix well, and roll into a log. Place into the fridge until harden.



A hour before cooking, remove the filets from refrigerator, in a plastic zip top bag mix together the Sweet Smoke Q Beef Juice and the water and place the filets in the marinade for about an hour. Prepare a grill with a medium-high heat fire on one half of the grill and add some pecan wood chucks directly on the charcoal. Remove the filets from the marinade and season both sides with salt and pepper. Place the filets on the opposite side of the charcoal for 10 minutes to absorb the smoke. Then place the filets over the direct heat until you get a good sear flip and finish cooking until internal temperature reaches 125 digress F for medium rare. Remove from the grill and add a teaspoon of the compound butter and bacon crumbles and let rest for 5 minutes before cutting into the meat.